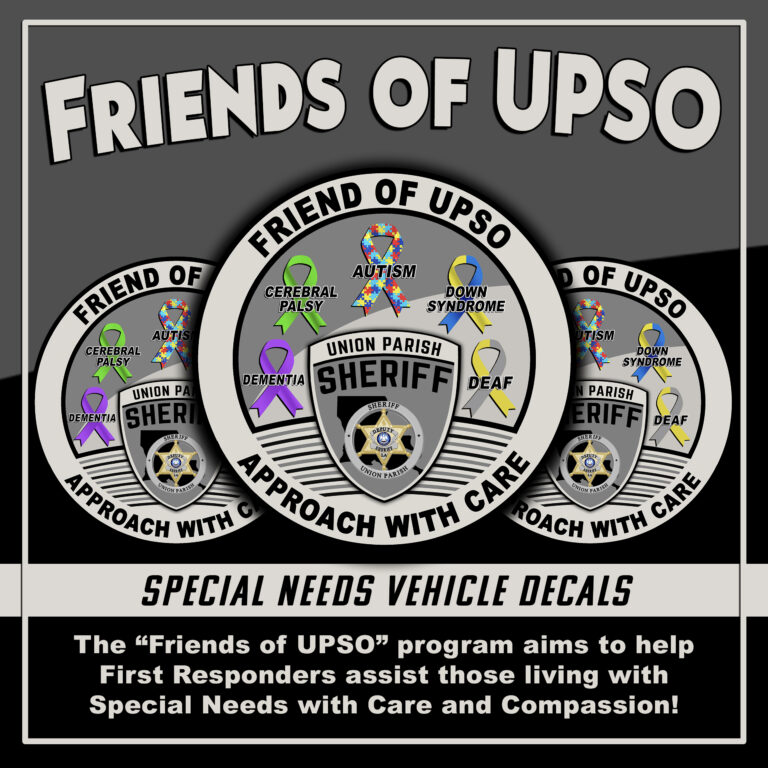 Union Parish Sheriff Dusty Gates is pleased to announce the "Friends of UPSO" program, aimed to help identify individuals with special needs and initiate a tool to help communicate those needs to public safety personnel.
The program is available to individuals with specials needs, such as autism, dementia, epilepsy, PTSD, Down Syndrome, as well as stroke survivors and those who are blind or deaf, and those with other conditions that may affect the way the individual interacts with first responders. Once these individuals are identified, they are provided with decals (as seen in the photo) to affix to their vehicle and/or home. The decal identifies them as a "Friend of UPSO" and instructs responders to "Approach with Care".
In order to receive a decal, we require some information to help first responders identify the special needs of the individual. This information will be stored in our computer-aided-dispatch database and will alert dispatchers when we are responding to a call at that address or have contact with the identified vehicle. This information will greatly aid responders in handling emergencies involving those with special needs.
Often times, first responders encounter individuals with special needs. Sheriff Gates says that knowing these needs ahead of time can help the interaction go smoother for both the individual and the first responder. "We hope these decals can help break down communications barriers and limit misunderstandings between individuals and our first responders." said Sheriff Gates.
Beginning 9/1/2023, parents and guardians can stop by the UPSO front lobby and complete the brief questionnaire to receive their decals. There is no charge or fee associated with this program.