2020 Deputy of the Quarter Awards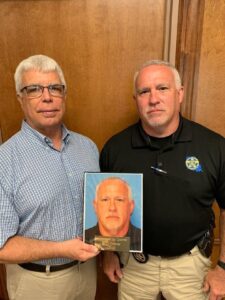 Det. Sgt. Bryan has been employed at UPSO since 2014 and is currently assigned to the UPSO Criminal Investigations Division. Det. Sgt. Bryan has an extensive amount of experience in all three areas of public safety, with many years of previous experience at Farmerville Police Dept., Farmerville Fire Dept., and D'Arbonne Ambulance Service. His diverse background and leadership skills make him an asset to our agency and our parish.
Congratulations Det. Sgt. Bryan on a job well done!
Pictured with Sheriff Dusty Gates.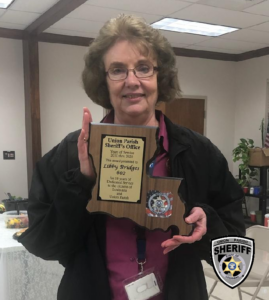 On 3/20/2020, Civil Deputy Libby Bridges retired from UPSO after 10 years of service. Sheriff Gates and the entire UPSO staff would like to wish Dy. Bridges a safe and healthy retirement.
Deputy of the Quarter Awards
2020 – Q1 – Dy. Scott Barmore
2019 – Q1 – Sgt Darien Brown, Q2 – Sgt. Rocky Kennedy, Q3 – Sgt. Mark Coy, Q4 – Sgt. Sam Snyder
2018 – Q1 – Dy. Shane Vocker, Q2 – Dy. Chris Satterwhite, Q3 – Det. Sgt. Earl Roberts, Q4 – Dy. Leo Davis
2019 Deputies of the Year
2019 Deputies of the Year:
Employee – Susan Edwards
Supervisor – Sgt. Kylie Henson
Civil Deputy – Dy. Stanley Lenard
Deputy – Sgt. Christi Sparks
Investigator – Det. Sgt. Cade Nolan
Communications Deputy – Dy. Burt Green
Years of Service Recognition (2019)
5 years: Sgt. Mike Bryan, Sgt. Mark Coy, Dy. Kent Daniels, Dy. Leo Davis, Sgt. Earl Roberts and Alice Yelton.
10 years: Dy. Holli Finklea
15 years: Reserve Sgt. Donnie Knight
20 years: Sr. Lt. Mickey Sewell & Sgt. Marcie Cooper
25 years: Cpt. Kenneth Bryan
30 years: Lt. Bruce McCrell